Mandatory COVID Testing for all students and staff, 11 AM - 4:30 PM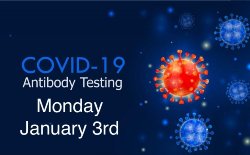 What

Mandatory COVID Testing for all students and staff, 11 AM - 4:30 PM

When

1/3/2022
Times are based on student's C Block groups.

School-Wide Covid Testing: On Monday, January 3, we will test the entire school community of students, faculty, and staff. Students will come beginning at 11:00 am. Testing will be on the field, with or without tents due to rain, and everyone must enter at the Posen field gate at the top of the Posen rise.

Here are the assigned testing times* for Monday, based on C-Blocks:

COVID Testing Times by C-Block Teacher

Seniors

Ms. Becerra 11:00 AM
Ms. Davey 11:00 AM
Mr. Lawson 11:00 AM
Ms. McManus 11:30 AM
Ms. Sachowitz 11:30 AM
Ms. Policar 11:30 AM
Dr. Tierney 12:00 PM
Mr. Voltaire 12:00 PM

Juniors

Ms. Duffala 12:00 PM
Mr. Rogers 12:30 PM
Mr. Sekona 12:30 PM
Ms. Libby 12:30 PM
Mr. Pacheco 1:30 PM
Ms. Paulson 1:30 PM
Mr. Mohun (Rubey) 1:30 PM
Mr. Peterson 2:00 PM

Sophomore

Mr. Bertero. 2:00 PM
Brother Matthew 2:00 PM
Ms. Jaeger 2:30 PM
Ms. McCormick 2:30 PM
Mrs. Harkness 2:30 PM
Mr. Sommers 3:00 PM
Mr. Sutphin 3:00 PM
Dr. Wesley 3:00 PM

Freshman

Mr. Kelly & Ms. Khan. 3:30 PM
Ms. Mahoney & Mr. Nguyen 3:30 PM
Mr. Riccardi & Mr. Mosby 3:30 PM
Ms. Gallien & Mr. Gonzalez 4:00 PM
Mr. Quach & Ms. Nunley. 4:00 PM
Mr. Thomas & Dr. Chuang 4:00 PM
Mr. Marks & Ms. Fernandez 4:30 PM
Mr. Palladino & Mr. Flemer 4:30 PM


*Students who do not get tested on campus must test independently on Monday, January 3, and submit proof of testing to the Covid Safety Team.

*If families have children in different grade levels, you may send both children during whichever assigned time works best for you.

Copy to Google Calendar
•
Download iCal Event